December 9, 2022
It's December, and we're wrapping up this year. 2022 had a lot of good things in store for CTD: unprecedented legislative and media attention on attendant wages, many invitations to give testimony on our issues at interim hearings, a return to an in-person Film Festival, and lots more.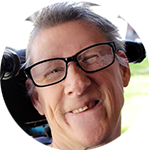 But among many positive developments, we also took some crushing blows—the loss of our colleague and friend, Susie Angel (right), most painful among them. Our annual summary below, and our work in the coming months, particularly on attendant wages, access to dental care, voting, and the arts, are dedicated to her.
Highlights from the annual summary (1 minute read) are below, or read the full summary (7 minute read) on our website.
Major Advocacy Work
The Legislature did not meet this year, but the time to set the table for positive advocacy was there, and we seized the moments.
Community Services and Supports
CTD led actions to correct Texas Health and Human Services Commission (HHSC) rules that would have excluded 130,000 attendants from eligibility for American Rescue Plan Act (ARPA) bonuses. Now, those attendants will receive $238M in extra bonuses.
We've been preparing for a push in 2023 to raise base attendant wages from $8.11 to $15 in the first year of the next biennium and $17 in the next, with a mechanism that would help keep pay rates up with inflation.
Voting Rights and Elections
We've been monitoring new, restrictive legislation (rollout has been troubled) and seeking opportunities to resolve its problematic provisions. We are currently setting meetings for a bill sponsor to address accessible mail-in ballots in 2023.
Children and Education
Texas' public systems that serve children are falling short in many ways, and children with disabilities are taking some of the hardest hits. CTD advocacy team members spent this year drafting comments, training parents and families, organizing events, and not letting those state agencies off the hook for their short comings.
In the Community
While legislative advocacy and work with state agencies are at the forefront of our efforts to build a barrier-free Texas, that's not all we do. For example:
Our staff serves on dozens of workgroups, advisory councils, and boards, including groups focused explicitly on disability issues and those who benefit from having a voice from our community at the table.
We held 11 Raise Your Voice! Advocate Connection Program Zoom calls this year, with over 200 advocates and self-advocates from across the state.
Our staff or work appeared in the media over 30 times in 2022, and we released several press statements responding to current events from a disability perspective.
We were delighted to be in the theater again for our 19th annual Cinema Touching Disability Film Festival!
Our virtual arts programming continued, with our monthly Lion & Pirate inclusive open mic, plus three incredible Thunder & Lightning Poetry Showcases spotlighting Disabled BIPOC and Disabled Queer Poets!
In our CDS Division, we completed a systems refresh to better serve consumers, a project years in the making. And, we organized a major consulting project on CDS best practices among Texas providers.