October 13, 2022
October is always an exciting month for CTD, with our annual Cinema Touching Disability Film Festival! Our 19th year kicks off tomorrow evening, see below for details and tickets!
In addition, October means November is not far behind, and in 2022, we've got midterm elections. There have been a lot of changes in the law since last year, and the primary elections in the spring didn't clear up any of the confusion! Many groups have put out great resources for voters with disabilities, we share our favorites below.
November midterm elections
Midterms (when we're NOT voting for President) are important, but often low-turnout elections. Races for statewide offices, like Governor and Attorney General, as well open seats in the State Legislature and local offices and propositions, will culminate on Election Day, November 8 this year.
With the passage of SB 1 and other restrictive bills by last year's state legislature, barriers and confusion could add to low participation. But Texans with disabilities have major stakes in our state leadership, and we want you to be prepared!
On our last Raise Your Voice call, Jennifer Harris (Secure Democracy) and Molly Broadway and Jeff Miller (Disability Rights Texas) joined our Chase Bearden to talk about big, recent changes in Texas election law, and how that could affect voters with disabilities in the midterm elections. It was a great discussion, and you can still access the transcript (.docx file will download) or view the recording (YouTube).
Some resources that came up in our discussion:
Find more extensive information with the League of Women Voters of Texas' Vote by Mail Resources and Disability Rights Texas' Voter Resources.
If additional questions or issues come up as you make your voting plan, or while you're at the polls, feel free to contact us!
Cinema Touching Disability
Friday & Saturday, Oct. 14 & 15, Austin TX
Cinema Touching Disability is back for our 19th year, and we're so excited to be holding our Fest in person! Join us at the Alamo Drafthouse South Lamar October 14 & 15 for two nights of fantastic disability film, fun, and community. Tickets are still available but going fast!
We can't wait to show you two exciting documentaries about artists with disabilities, who insist on taking center stage! While they're very different, both of these films center self-determination, adaptability, and the celebration of disabled performance. October 14 & 15, we bring you: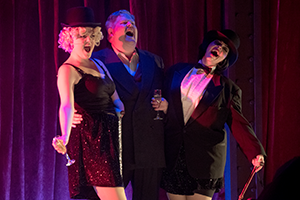 IMPERECT (2021) is a story of artists who live and perform with the uniqueness of disability, having been denied their place in the spotlight. This show-stopping documentary follows Phamaly, a Denver theatre company for disabled actors, as they mount a production of the legendary musical, Chicago. IMPERFECT is an unrated documentary and has a run time of 78 minutes. This film will screen at Cinema Touching Disability on Friday, October 14, 2022.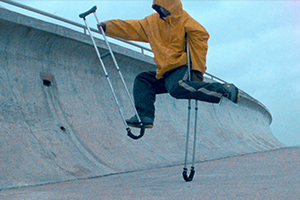 CRUTCH (2020) chronicles the gravity defying life of Bill Shannon, an internationally renowned artist, breakdancer and skate punk—on crutches. The film documents Bill's extraordinary journey: the history of his medical odyssey and his struggles with chronic pain, the evolution of his crutch dancing and skating, his rise to become a world-renowned performance artist, and his transformation from an angry skate punk to an international hero. CRUTCH is an unrated documentary and has a run time of 98 minutes. This film will screen at the Festival on Saturday, October 15, 2022.